Holiday cottages in Pembrokeshire - a world class destination
Holiday cottages in Pembrokeshire are located in some of the most stunning scenery in Wales and are perfectly placed to take advantage of the plethora of activities this beautiful county has to offer.  Pembrokeshire, which is officially recognised as one of the best coastal destinations in the world, offers something for everyone.  From walking the coast in Britain's only Coastal National Park to taking in history at the tiny cathedral city of St. David's,  from swimming at the many award winning beaches (the highest number in any county in the UK), to enjoying the every-popular Oakwood Leisure Park, visitors to the area are truly spoilt for choice.
Crystal clear waters make Pembrokeshire perfect for adventure activities like coasteering and kayaking.   If you enjoy coasteering, why not visit Abereiddy, home to the famous Blue Lagoon,  or go kayaking around the island of Ramsey and appreciate, first-hand,  the amazing marine and birdlife on display. For those who love swimming, there are as many as 50 beaches to choose from, including the truly idyllic Barafundle Bay.  Backed by dunes and pine trees and blessed with golden sand, you would be forgiven for mistaking the bay for somewhere in the Caribbean, such is its exotic charm.  For the surfers among you, why not try Whitesands Bay or Newgale and enjoy a truly exhilarating surf in the most breathtaking of backdrops.
For the those of use seeking calm and tranquillity, Caldey Island would be a worthy  destination.  Take a boat ride out to the island and visit its famous monastery,  watch the Cistercian monks going about their daily lives, keeping alive traditions which existed during Celtic times. A holiday in Pembrokeshire would not be complete without  a visit to St. David's,  the smallest city in Britain, which was named after the patron saint of Wales who founded a monastery and church there as long ago as the sixth century.
Holiday cottages in Pembrokeshire offer a wonderful, unforgettable experience in one of the UK's most sought after holiday destinations.  Never too far away from the many lovely attractions in the county, our cottages provide a fantastic opportunity to relax and get away from it all in style.
---
---
View more and filter search
Back to list view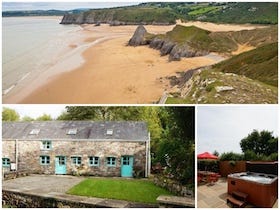 Swansea Valley 
Gateway to the Brecon Beacons and the Gower 
The Swansea Valley is a real Welsh gem, offering the best of both worlds with close proximity to both the Brecon Beacons National Park and the unspoilt and extensive Gower coastline
Sandy Haven, Pembrokeshire West Wales
(No dates selected)
£
450
-
£
1250
per week
From £338 for a 3-night stay
Located only a few hundred yards from the water at the coastal inlet of Sandy Haven this holiday cottage is stylish and spacious perfect for families and for taking pets.
8 Guests
4 Bedrooms
2 Pets
3 Bathrooms
WiFi
Garden
Games room
Beach 0.2 miles
Pub 0.5 miles
Llety Celyn - The Hollies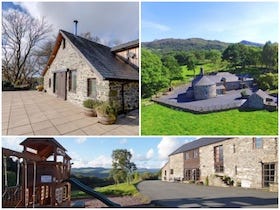 Explore Machynlleth - 
the gateway to Snowdonia  
Machynlleth is a small Welsh town, situated at the head of the Dyfi estuary in Mid Wales with easy access to also explore Snowdonia National Park. Click and search our 4 and 5 star countryside cottages. 
Pembroke, Pembrokeshire West Wales
(No dates selected)
£
530
-
£
988
per week
From £398 for a 3-night stay
Perfect for a family or group of friends, this townhouse looks out across the water and is only a short drive from many of the great beaches in Pembrokeshire.
8 Guests
3 Bedrooms
2 Pets
WiFi
Beach 1 mile
Pub 1 mile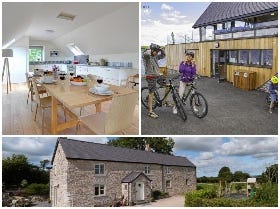 North Wales Borderlands
The North Wales Borderlands offers something magical for everyone, whatever your interest. And as well as exploring attractions such as Pontycysyllte Aqueduct, Llangollen Canal and the Clwydian Range you're also within reach of Snowdonia National Park.
Tenby, Pembrokeshire West Wales
(No dates selected)
£
522
-
£
1082
per week
From £392 for a 3-night stay
This duplex holiday apartment is situated overlooking the harbour and North beach in what must be one of the best locations in Tenby.
7 Guests
2 Bedrooms
No Pets
2 Bathrooms
WiFi
Beach 0.1 miles
Pub 0.1 miles
St Davids, Pembrokeshire West Wales
(No dates selected)
£
469
-
£
1076
per week
From £352 for a 3-night stay
This detached holiday cottage in St Davids is located on a working farm near the beautiful Pembrokeshire coast. Within walking distance of the sea and the All Wales Coastal path this area is ideal for walking, fishing, coasteering, surfing, wildlife watching or of course for just sitting back and relaxing. Ideal for families or groups.
7 Guests
3 Bedrooms
2 Pets
1 Bathroom
WiFi
Garden
Private parking
Beach 0.5 miles
Pub 1 mile
Pembroke, Pembrokeshire West Wales
(No dates selected)
£
396
-
£
820
per week
From £297 for a 3-night stay
Rockpools, dolphins and sand, glorious sand. Just some of the things to discover during your stay at Pembroke Mill Holiday Apartment, set within a newly renovated 17th century water mill in 30 acres of private grounds in Pembrokeshire National Park. Within easy reach of 50 superb beaches offering sailing, surfing, kayaking and much more.
6 Guests
3 Bedrooms
No Pets
1 Bathroom
WiFi
Garden
Private parking
Beach 4 miles
Pub 0.5 miles
View more and filter search